Thank you Steve Bream for a particularly thorough review! We are so pleased you had SUCH a fabulous experience.
        I'm not a fan of winter golf. The grass is dormant, the ground alternates between frozen solid and sodden from rain, sleet, and snow. And to add insult to injury, it's cold. I'm not even going to pretend that cold doesn't bother me – I hate cold. I hate cold so much that I don't complain about playing golf when it's 100 degrees (that's like 38 in Australian degrees). But the alternative to winter golf is too awful to contemplate, so when the snow stops blowing and the wind stops howling, I layer up like I'm sailing with Shackleton, fire up a couple of handwarmers, fill a flask with the appropriate antifreeze, and brave the frozen tundra.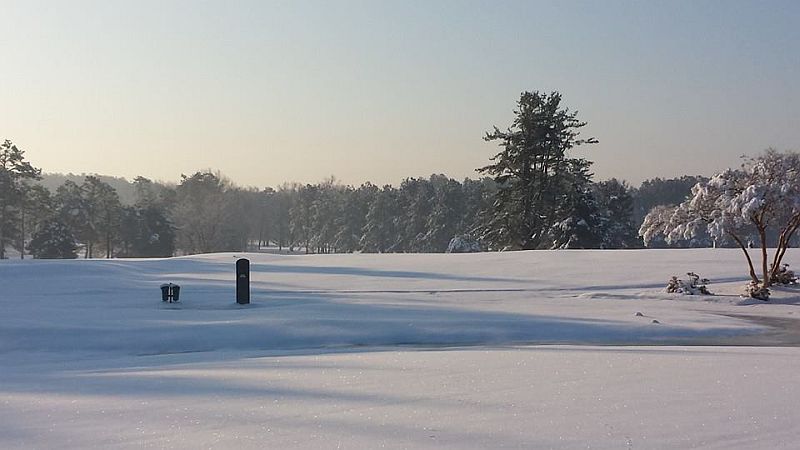 I don't know, think we can squeeze in 9?
I have been thrown off of my home course because the greens were freezing and it was snowing so hard that I could putt farther than I could see, and I have been told at the turn that the staff is going home because no one else will play in that much rain, and to please lock up when I'm done. So while I have the good sense and good fortune not to live in the truly frozen north, when it comes to gear to help you weather the "off season" my credentials are pretty good. When I got the call to review a set of gear from LACD, I was a bit skeptical. According to their website, LACD is pronounced "laced", but since they're Australian I suspect it's pronounced "
liced
", and it's currently summer outside their offices. Even in winter Australia's climate is pretty mild, as my expat friends in Brisbane never miss a chance to mention while there are 8 inches of snow on the ground here in the land where the toilets swirl clockwise. I would expect an Australian company to be experts in clothes for hot weather, but real winter gear? Not bloody likely mate. LACD took up the challenge and covered me from head to toe. After some rigorous and sometimes unconventional testing, my LACD gear has become my go-to when the weather looks even a bit iffy. LACD focuses on style and comfort, and to achieve those goals they have a variety of performance fabrics, each tailored to a specific application. Each of the four pieces they outfitted me with features a different fabric designed to meet the needs of that application. This focus on creating comfort through style and technology pays off with increased comfort, and when the winter rains come I'm happy for any comfort I can get.
Men's Performild Cap
My hairstyle is a lot closer to Stewart Cink than to Robert Rock so I appreciate a good hat, and I have dozens of them. The LACD Performild cap combines a lot of my favorite features in one good-looking package, and adds one I never thought of.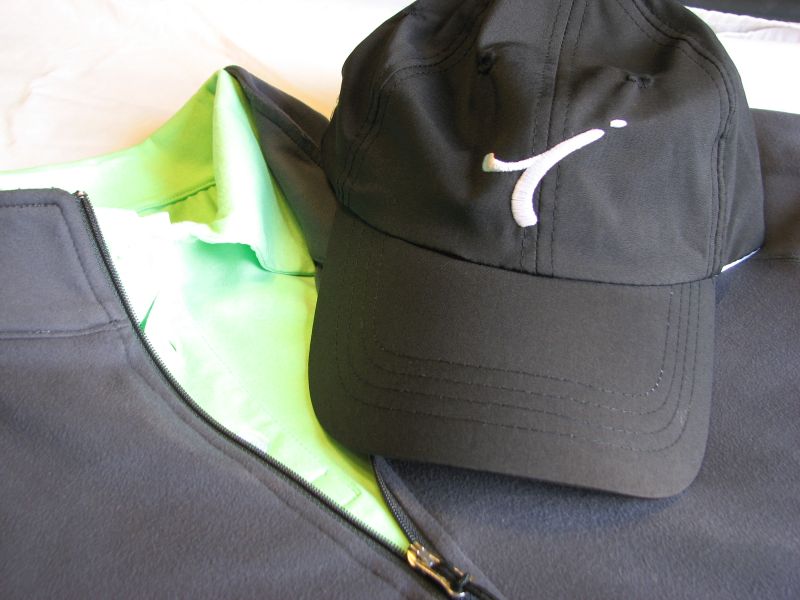 The Performild fabric is LACD's take on moisture-wicking nylon, and it looks good and works well, as proven during a recent burst of unseasonably warm weather. The crown is low and unstructured, avoiding the high-rise trucker look that's too prevalent for my taste. Closure is by a hook and loop strap, with added elastic so that you don't have to be overly precise when you size the hat. I like that feature, as my hat size seems to go up and down a bit with my blood pressure during a round, so a little give saves me a lot of fiddling. A very nice touch in the LACD Performild cap is the contrasting color on the underside of the brim. The underside of my black cap was white, which made the bill much less noticeable and seems to avoid the common problem with shading your eyes – your pupils dilate in the shade, which makes it hard to look out onto the sunny course. The white lining reflected some additional light, making it noticeably easier to see contrast on the course. As someone who has suffered more than their share of winter sunburn, the UPF50+ sun protection factor is well appreciated too.
Winter Technimild Winter Polo
LACD boasts that the Technimild fabric used in their winter polos has a softer hand feel than cotton, and I believe them. What they don't mention is that it's also pretty durable, resisting the pilling and wear spots that sometimes happen with a soft tech fabric. It feels great to wear, and does a great job of moisture management, pulling moisture away from your body and shedding any external moisture (cough, cough, beer, cough) that might land on it.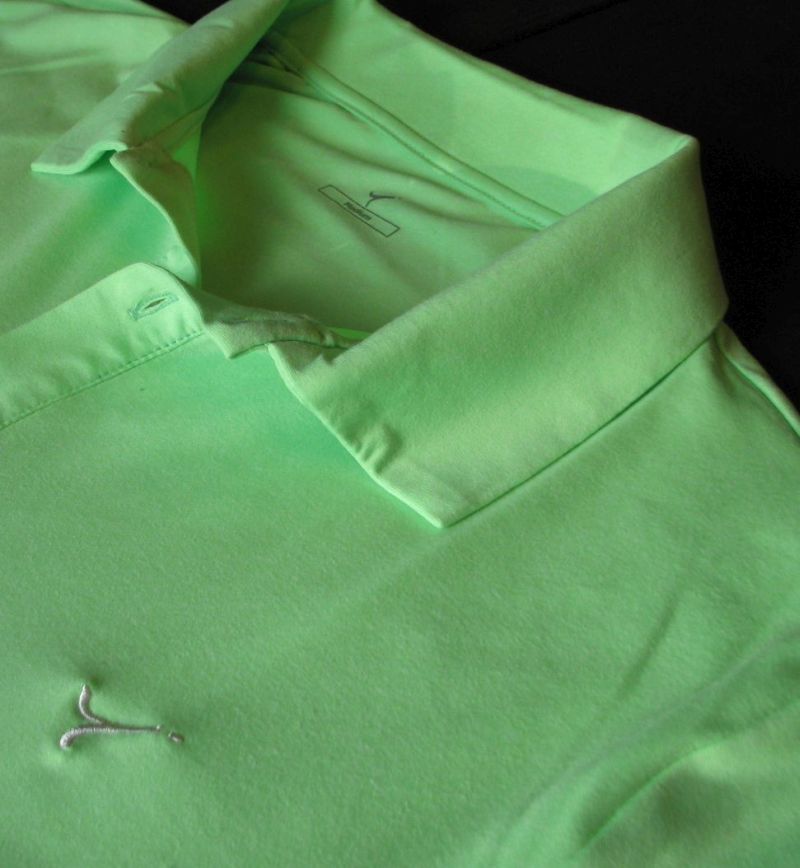 Fairways and greens
The cut of the Technimild winter polo is on the tailored side, but not so severely that have to go up a size if, like me, you treat winter as the time to "take some rest days and get some extra carbs" (translation: "sleep in and eat Pop-Tarts".) I wear a Medium in almost all shirts, and the LACD Technimild was spot on, fitting nicely in the shoulders and not betraying my winter insulation too badly. The collar is soft and has enough structure to stand up without being scratchy. I wear a 15 inch collar in a dress shirt, and the LACD polo fits nicely at the neck. The three-button placket is nicely finished, with the buttons spaced so that you can choose to button two without looking like PeeWee Herman, or one without looking like a lounge lizard. The sleeve is embroidered with "LACD", and the LACD  logo is embroidered on the chest and on the back of the collar, which I thought was a nice touch. The very light contrast of the white embroidery on my light green shirt looks good without drawing too much attention.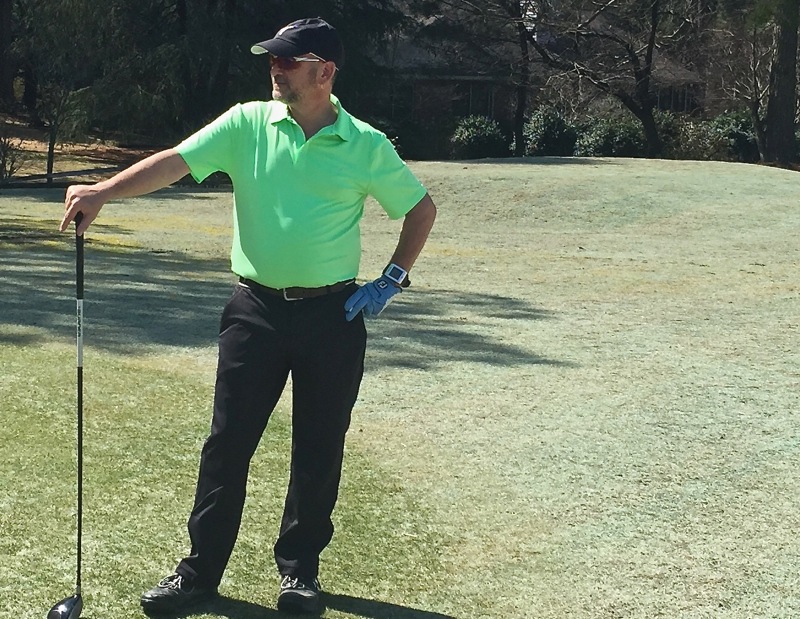 See how discreetly I blend in?
The Technimild fabric feels luxurious, wicking moisture to keep you cool while at the same time being substantial enough to provide some protection from the wind. With the spring thaw the Technimild winter polo promises to be just the ticket when the temps promise to climb significantly during my round.
Stretchlite Microfibre Half-zip
This half-zip pullover continues the theme of performance fabric that feels like real fabric. The Stretchlite material is nearly as soft as the Technimild polo, with a bit of spring to it that makes it fit well on a variety of figures. My medium again fit perfectly in the shoulders and very well around the midsection. The sleeves are long enough to cover your hands between shots. If, like me, you have winter gloves but prefer to play with a single regular glove, these sleeves can make the difference when what you really need is to keep your hands warm in between shots. The collar zips completely to keep drafts from blowing down your neck, and roomy enough that your shirt collar doesn't bind.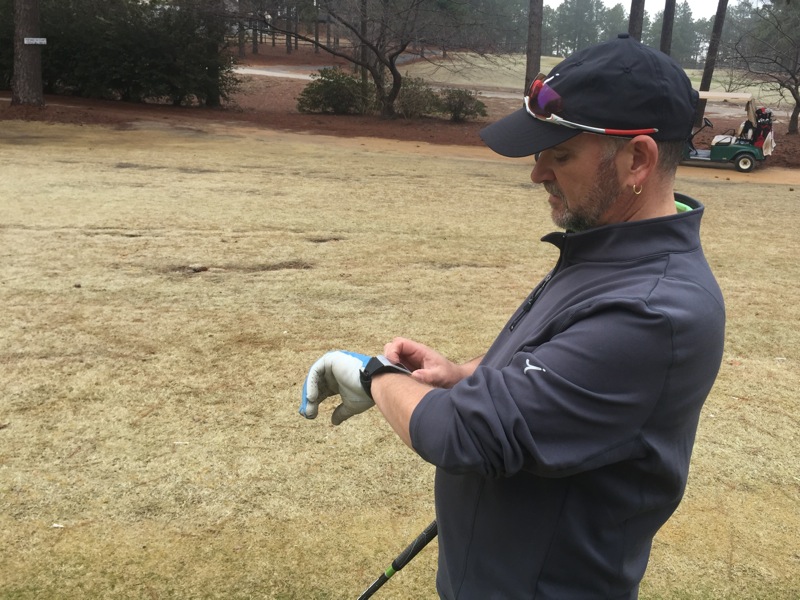 180 yards..bout a 7 iron 
The Stretchlite fabric accommodates a surprising range of temperatures – it was warm enough for a sub-50 degree morning tee time on a very raw morning made worse by wind and drizzle, but it wasn't oppressive when the clouds broke and the temps climbed into the 60s. I probably could have worn it a bit longer, but I had to take it off so we could get some action shots of the polo. The life of a model is tough, don't hate. Detailing is minimal, with LACD vertically on the right shoulder and the LACD logo on the back of the collar again. It's a very smart-looking pullover, getting compliments whenever I wear it. In fact, it might be my favorite item in my LACD ensemble.
Membolite Pants
First, it's just fun to say. You just can't say "Membolite" without smiling. Put them on and your smile will double. The first time I tried these pants on I couldn't resist walking around just to feel them. The combination of outer shell (which is completely waterproof) and inner liner (which is soft and breathable) makes these pants feel amazing. Now I know why ladies are so attached to their yoga pants.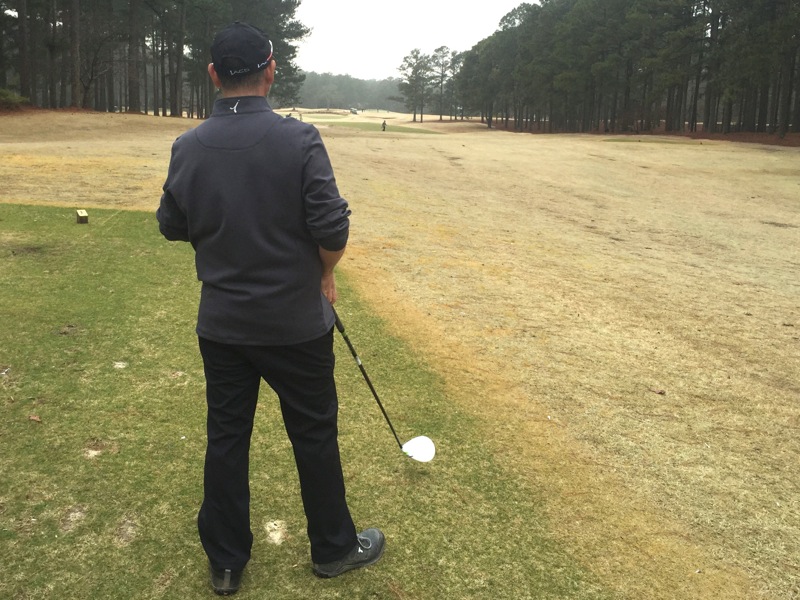 See that guy down there? He's in range
On top of the great feel, the Membolite pants fit very well. I'm a difficult fit in pants, but the Membolite fabric has enough stretch that they'll work well even if they're not
exactly
your size. I wear pants from 30 to 33 in waist, depending on who is measuring. The 32 inch LACD pants fit like they were made for me – roomy enough to move, but not roomy enough to fall out from under my belt. The black material looks a bit… let's say "high-tech". Right at home on the golf course, but probably not what I'd choose for a night on the town. I did press them into some unusual service, however. Not long after I received my Membolite pants we were hit with 
real
winter: 7 inches of snow fell overnight. Driveways needed shoveling and kids were eager to play outside. After my jeans were soaked with melting snow, I realized that I had the perfect solution hanging in my closet. With a thermal base layer underneath, my LACD golf pants became my Membolite Snowball Armor. After hours of shoveling driveways, building snowmen, and laying in the snow begging for UN intervention while the neighborhood kids emptied their snowball arsenal on me my Membolite pants remained perfectly waterproof. In fact when I brushed the snow off of them they didn't even look wet on the outside!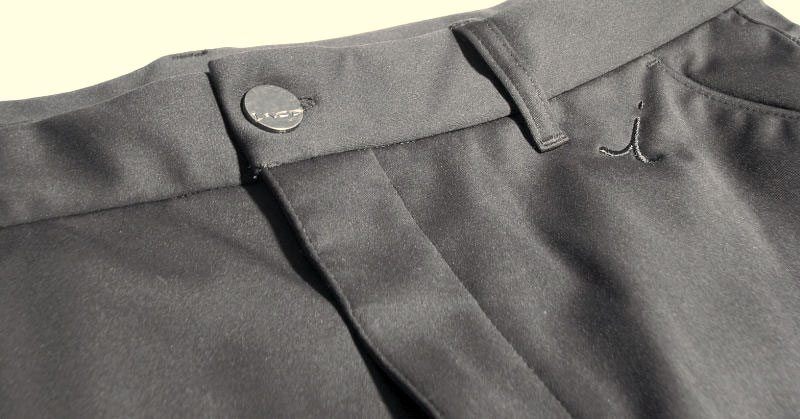 Looking closer it quickly became apparent that LACD really went the extra mile to make sure that these pants are truly waterproof. Most garments only claim water resistance, because no matter how waterproof your membrane is, you have to sew it to make pants, and once you've made a hole, water will eventually find it and work its way in. LACD foiled capillary action by taping the seams of the Membolite pants on the inside. Water tries to wick in the seams, only to be stopped by the heat-sealed tape. After this test I've removed my rain pants from my bag (which gives me more room for antifreeze and chemical handwarmers). And just because I wouldn't choose the Membolite pants for a night out, don't get the impression that they aren't stylish. LACD continues their theme of restraint, adding a small decorative plate to one of the large belt loops and embroidering their logo in matching black thread. Still, these are definitely golf pants, with thoughtful features like back pockets that will accommodate a score card, and a smaller pocket inside one of the front slash pockets that's perfect for a couple of tees or your ball marker.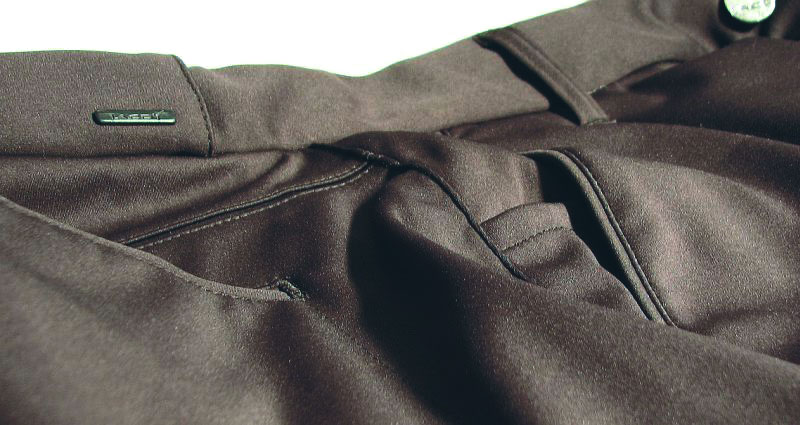 A word of caution though – LACD recommends these pants for temperatures below 20 degrees Celsius. That's 68 degrees Fahrenheit, I did the math. Above 70 degrees F, these pants get a tad bit warm. That leaves a lot of very good golfing days when they're the perfect choice, but once spring really arrives they may have to take a vacation until things cool off. Of course it will be winter in Australia then, and the Aussies clearly know a thing or two about winter golf. See the whole collection on the
LACD website